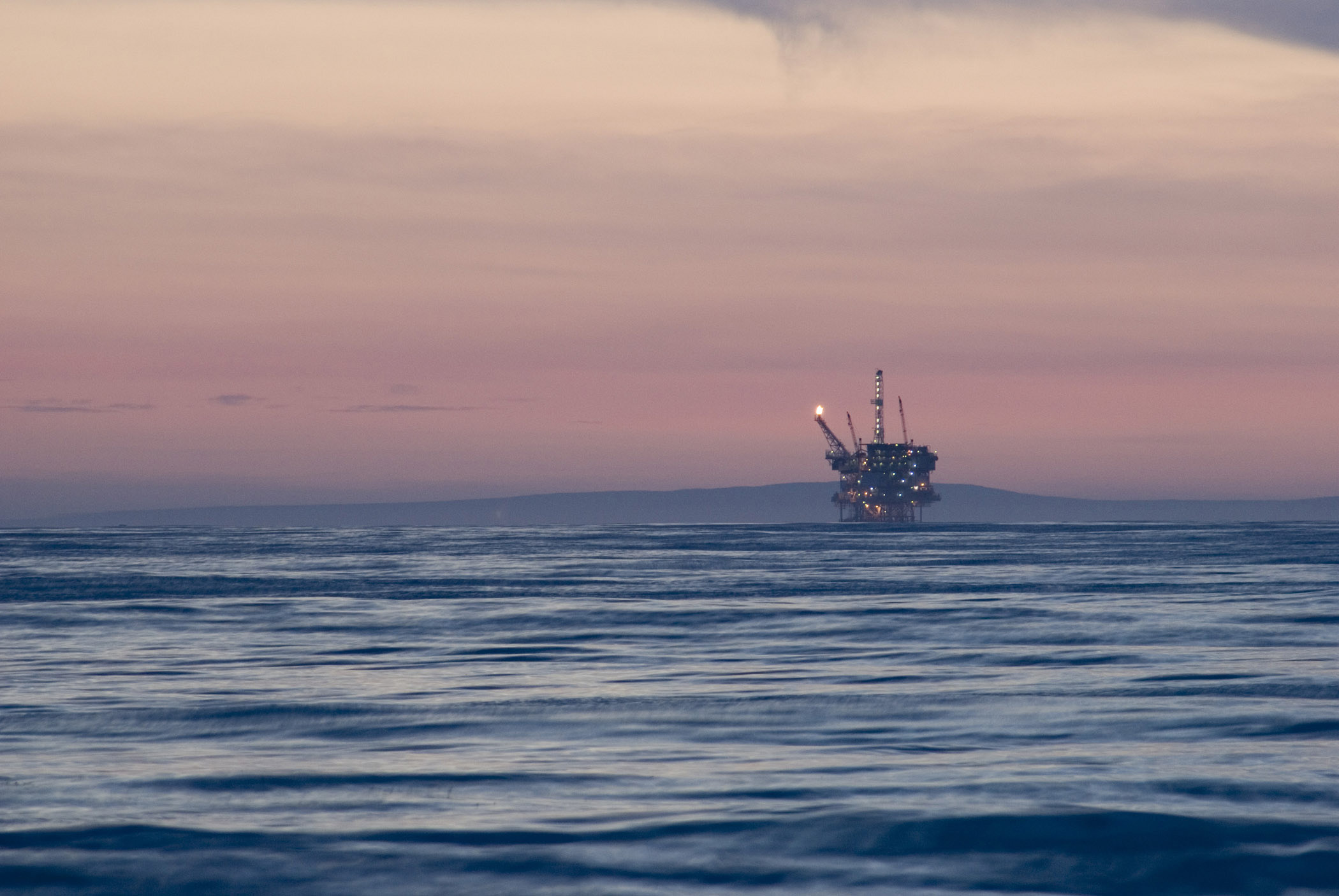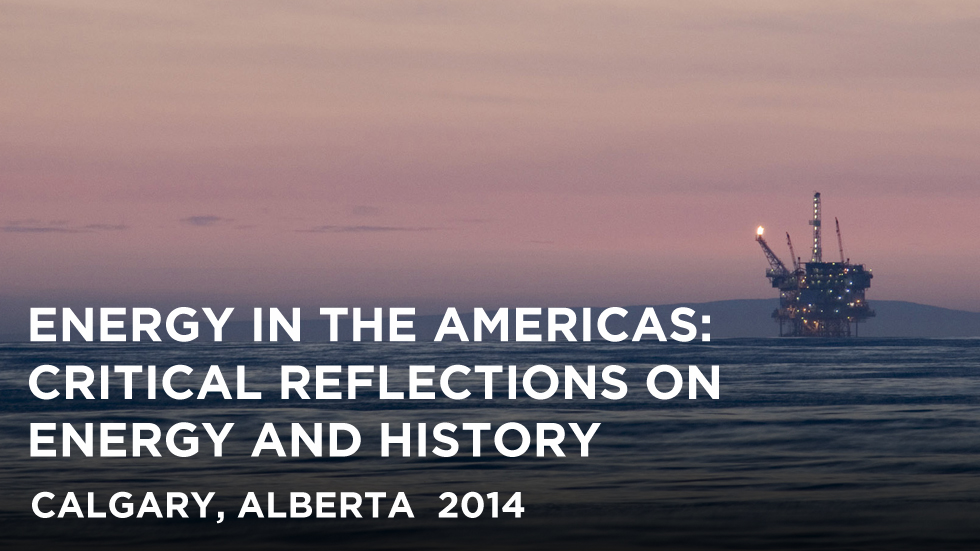 CONFERENCE REPORT
"Energy in the Americas: Critical Reflections on Energy and History"
October 23-24, 2014 University of Calgary, Canada
With the understanding that researchers must critically analyse the past in order to better plan for the future, participants in "Energy in the Americas" presented original research advancing understanding of the economic, social, cultural, political, and environmental effects of the production and use of energy resources and technologies in the history of the Americas. With the support of the University of Calgary and the Social Science and Humanities Research Council of Canada, scholars in the field of energy studies from Canada, the United States, Europe, and Latin America contributed to this critical reflection. The conference papers are summarized below. The participants called for the creation of the Energy Studies Association, to provide them with a "home," due to the interdisciplinary and multidisciplinary nature of the field. Interested colleagues are encouraged to join the discussion network H-Energy, where the conversations regarding the foundation of the Energy Studies Association and a projected second bi-annual conference, to be held in 2016, will be discussed.
I. The Role of the State
Isabelle Rousseau, Profesor Investigador, Centro de Estudios Internacionales, El Colegio de México: "Les dynamiques évolutives des companies pétrolières latino americaines: Petroóleos Mexicanos (Pemex) et Petróleos de Venezuela, S.A. (PdVSA)."
Rousseau compared and contrasted PEMEX in Mexico, and PDVSA in Venezuela as a demonstration of the state's crucial role in energy development. Though both companies were nationalized, Rousseau argued that the two companies experienced different historical trajectories. The Venezuelan government allowed PDVSA to operate pragmatically as though it were a private company, entering into joint ventures with foreign investors that attracted additional capital and allowing the company to expand into areas such as the Orinoco Basin through further exploration. In contrast, PEMEX remained tightly controlled, implemented few joint ventures and subsequently lacked the capital necessary to expand and suffers from much lower production levels. Ironically, the two companies have now switched positions.
Gail D. Triner, Professor, Department of History, Rutgers University: "Regulatory Regimes for Petroleum Production in Brazil."
Triner analyzed the history of petroleum's political economy in Brazil and the tensions in recent years over Brazil's movement from a petroleum importer to a major petroleum exporter. According to Triner, Brazil's shift to a major energy exporter generated a need to change regulatory practices. While Brazil slowly moved away from strict government control throughout the late twentieth century, the possibility of new petroleum wealth from pre-salt sources, coupled with Brazil's traditions of state control and rent-seeking oppose the shift to a fully open petroleum market.
Esteban Seranni, Docente Investigador, Centro de Esudios Sociales de la Economía del Instituto de Altos Estudios Sociales de la Universidad de San Martín: "La expropiación de YPF en perspectiva histórica. Límites y desafíos de la intervención energética estatal en la Argentina actual."
Seranni found a different result in Argentina. Argentina's state oil corporation, YPF, was the first state vertically integrated state oil company, but while Mexico, Brazil, and Venezuela nationalized their oil industries, beginning in 1993, Argentina pursued a course dedicated to privatizing and deregulating their oil industry. As Seranni points out, YPF was nearly fully privatized until 2012 when the Argentine government sought to return the company to state control. Despite these efforts to regain control over oil production, Seranni argues that the extended period of neoliberal policies hurt Argentina's ability to become self sufficient and eventually move away from importing petroleum.
João Rodrigues Neto, Departamento de Economia, Universidade Federal do Rio Grande do Norte: "As Reservas de Petróleo na Camada do Pré Sal e as Perspectivas do Futuro do Setor Petrolífero Brasileiro."
Rodrigues Neto gave a presentation on Petrobrás' recent developments and changes in Brazilian government policies towards new exploration and oil production. The Brazilian government believes new oil exploration into pre-salt layers in areas between the states of Espírito Santo and Santa Catarina will lead to even greater oil production and will solidify Brazil's place among the great oil producing nations. The Brazilian government further believes that this project will bring great economic wealth to the entire nation and has invested heavily in this new exploration. Rodrigues Neto concluded that it remains to be seen if this process will bring the expected wealth to Brazil.
II. Rhetoric and Ideology
Dominique Perron, Associate Professor, Department of French, Italian and Spanish, University of Calgary: "Entre Hydro-Québec, Suncor et Enbridge: la representation promotionnelle et euphémisation de lénergie."
Perron argued that energy use and exploitation is often the object of important cultural discourse. Cultural discourse is necessary to generate legitimization and a necessary political consensus on how to develop energy resources. Perron presented the promotional campaigns from different corporations on different energy projects and compared their results. Though its creation of more dams on the Romaine River generated a large impact on the environment, Perron argued that Quebec-Hydro's promotional campaign alleviated many concerns and effectively generated consensus and popular support for the project.
Petra Dolata, Associate Professor, Department of History, University of Calgary: "Narrating Crisis: The Construction of U.S. Energy Security in the 1970s."
Dolata's presentation examined the historical process by which U.S. governments and the public, beginning in the post-war era, began to conceive of energy security. The energy crisis of the 1970s reshaped American understanding of oil and increased American interest in forming a self-reliant energy base, using a mixture of different renewable and non-renewable sources, but Dolata argues that the narrative of energy security evolved separately from the crisis in energy consumption.
Pablo Heidrich, Adjunct Research Professor, Institute of Political Economy, Carleton University "Latin American Oil and Gas Policies. Views on Energy as a Tradable, Public and Common Good."
Instead of relying on the term "resource nationalism" to explain trends in Latin American energy policy since the 1980s, Pablo Heidrich argues that energy should be seen as a commercial, public, or political good. This reframing better links energy policy to other state policies and gives "theoretical equanimity" to perspectives that are more market-driven and those that are state-driven. Heidrich compared the frames used by resource nationalism and applied his framework of energy as a market and political good to recent energy policies in several Latin American nations.
Donald V. Kingsbury, Lecturer, Department of Political Science, University of Toronto: "The 'Coloniality of Oil' and Venezuela's Bolivarian Revolution."
Kingsbury suggests that in Venezuela, there is a cultural link between oil and failure. Since the Bolivarian Revolution in 1989, there is a distinct effort to force Venezuela to transcend its status as a mere "oil country" and reject the "coloniality of oil." According to Kingsbury, the Venezuela's dependence on oil has generated a desire to avoid the corruption, inequality, and underdevelopment that typically arise in oil-rich nations throughout the world. Venezuela's dependence on oil is a topic on the street and in political debates and there is an effort within the nation to transcend its status as an "oil country."
III. Local Politics and Environments
Elvin Delgado, Assistant Professor, Department of Geography, Central Washington University: Re-defining the Materiality of Hydrocarbons: Oil, Politics and the Spatial Transformation of Lake Maracaibo, Venezuela."
Delgado focused on the development of oil production in Venezuela and argued that development was a geographic strategy as well as an economic strategy. Delgado looked at the case of Lake Maracaibo from the moment of discovery to consumption in order to view the negative impacts of the "bargaining, adjustment and resistance" that took place between the state and the foreign oil companies and its impact on the environment, the ecology of the lake, and the social relations of its inhabitants. Despite their lack of input in the debates on oil production in the region, the local inhabitants bore the brunt of its negative impact.
Michael Camp, Ph.D. Candidate, Department of History, Emory University: "'Wandering in the Desert': The Clinch River Breeder Reactor Debate, 1973-1983."
Camp added to the discussion of energy and politics by using the example of the aborted US Clinch river breeder reactor in Tennessee. Camp argues that local concerns such as federal funding and jobs kept the reactor project going, despite numerous attempts to cancel it. Though the reactor seemed contradictory to the Reagan Administration's free market approach, Camp argues that local political concerns were strong enough that even President Reagan supported the project before it was finally abandoned in the mid 1980s.
Gustav Cederlof, Ph.D. Candidate, Department of Geography, King's College London: "Electricity, those without, Cuban Socialism, and the Power of a Blackout."
Cederlof's main argument was that we as a society should "rethink how we write histories of electrification." He demonstrated the important relationship between infrastructure and humans, one in which both are actors. Cederlof looked at the impact of electrification on the Cuban Revolution and how the electrical grid is a symbol of national progress and at the same time enforces power dynamics. Cederlof also addressed how these energy systems continue to enforce unequal gender relations as well as enforcing the power dynamics within the country between those with electricity and those without. IV. The Transnational Origins of Energy Production
Linda B. Hall, Professor, Department of History, University of New Mexico: "Mexican Oil 1917-2014."
Dr. Hall traced the openness of Mexico's oil resources to non-Mexican and private companies from the post 1917 presidential administrations to the post 2000 presidential administrations. According to Hall, the 1917 Mexican Constitution cemented the Mexican government's control over subsoil resources including oil into law. Subsequent presidential administrations further asserted Mexico's right to control oil and natural resource production and use profits for Mexico's well-being. Hall argues that several recent presidential administrations have slowly rolled back this legacy of using resource extraction for social purposes in an effort to modernize the energy sector, bring greater foreign investment, and bring greater profits.
Brian McBeth, Senior Common Room Member, St. Antony's College, Oxford University: "The Commercial and Political Dynamics of the Crude Oil Industry: the case of the Royal Dutch – Shell Group in Venezuela, 1913-1923."
While Venezuelan historiography argues that Venezuela's position as a large oil exporter was a certainty, Brian McBeth reaches a different conclusion. Despite the Dutch-Shell Group's success in Venezuela during Juan Vicente Gómez's dictatorship, McBeth argues that the Shell Group encountered many challenges to its dominance over Venezuelan oil production. The Venezuelan government, other oil companies, and private Venezuelan citizens disputed Shell's oil titles and created great political opposition from 1917-1923. McBeth concludes that Shell's initial move into Venezuela proved crucial and gained it the best oil lands and many allies within the Gómez  dictatorship. Shell survived all legal challenges and maintained its dominant position and helped push Venezuela into its lofty position among oil producing nations.
Mark Sholdice, Ph.D. Candidate, Department of History, University of Guelph: "Among the People of Hydro Land": American Debates about Ontario's Hydro Commission during the 1920s."
Sholdice presented on the Hydro-Electric Power Commission of Ontario's influence on American progressive thought in the United States during the 1920s. Sholdice's work is an example of recent works that trace international influences on the progressive movement. According to Sholdice, American Progressives viewed HEPCO as a model and an example for the United States and pushed legislation to bring utility companies under municipal control. Progressives faced withering opposition from private utility corporations and those that feared a drift towards socialism. Private corporations won out in the 1920s and utilities predominantly remained under private corporate control.
V. Energy Nationalism
Joseph Pratt, Professor, Department of History, University of Houston: "Exxon in Venezuela: The Rise of Producer Power from Inside the Largest International Oil Company."
Pratt examined the relationship between oil and the state from the perspective of Exxon's experience in Venezuela. He identified three periods: unabashed exploitation; abashed exploitation; and the road to nationalization. By changing business models and practices, Exxon attempted to stave off the Venezuelan turn toward nationalization, but the corporation recognized that nationalization was inevitable, and learned from the long history of its involvement in Venezuela to solidify its preeminent position in the oil industry throughout the twentieth century.
Daniel Macfarlane, Assistant Professor, Environmental and Sustainability Studies, Western Michigan University: "The St. Lawrence and Niagara Megaprojects: Canadian-American Energy Relations in the 1950s."
Macfarlane looked at Canadian and U.S. contention over two major natural resources during the twentieth century. Considering that the United States and Canada share the St. Lawrence and Niagara Rivers, matters of production, identity, geopolitics, and even aesthetics played roles in what became contentious relations between the two sides. Economic, political, and security concerns played a role in how to use the rivers for hydraulic power. According to MacFarlane, these development projects explain the many differences and similarities between American and Canadian ideas on energy, identity, natural resources, technology and nation building.
Joseph Garcia, Ph.D. Candidate, Department of History, University of New Mexico: "Petro para la Patria: The Historical Revolutionary Trajectory of Lázaro Cárdenas and Fidel Castro on Natural Resource Sovereignty in Mexico and Cuba."
García drew on the theoretical frameworks of Immanuel Wallerstein, Theda Skocpol, Charles Tilly, and charismatic authority as conceptualized by Max Weber. García argues that the nationalization of natural resources led to the successful institutionalization of revolution and staved off private corporate dominance from the United States. García cited the 1938 Mexican oil expropriation and the 1960 Cuban nationalization, as examples where Latin American governments successfully confronted and defeated American attempts to exert political control through corporate dominance.
Eric Gettig, Ph.D. Candidate, Department of History, Georgetown University: "The International Politics of Cuban Oil Nationalism in the Era of the Cuban Revolution."
Gettig explored how Cuba's oil deficiencies shaped its economic and political development and its relations with those controlling its oil supply. Gettig defined Cuba's oil nationalism as a belief that oil should be used to benefit Cuba and argued that this belief developed during times of energy insecurity. Gettig traced several themes in Cuba's complex relationship with oil. The first was the expected prosperity oil would bring. The two other themes were in conflict with one another. The Batista regime viewed private corporations as partners, while the revolutionary doctrine viewed foreign corporations as obstacles to Cuba's oil prosperity. Cuba's failure to become a wealthy oil exporter reinforced the revolutionary doctrine and influenced Cuba's energy policy following the 1960s.
VI. Consumption Patterns
César Yáñez, Profesor Titular, Universidad de Valparaíso and Universidad de Barcelona: "Primary energy consumption and economic growth in Chile, 1844-2010."
Yáñez examined the relationship between primary energy consumption and economic growth in Chile beginning in the mid 1800s. Fossil fuels, according to Yáñez, enabled the transition to capitalism for Chile and carried with them the hope of overcoming centuries of economic difficulties. For nearly 80 years, however, from 1914-1990, Chile faced restrictions on the supply of fuel, which related negatively to the economy's modernization. This increase in demand forced Chile to look to the international market to satisfy its requirements. Yáñez observes that there is a direct link between the consumption of energy and economic growth (or lack thereof) and argues that planning and diversification are fundamental to counter the kind of uneven trajectory that Chile experienced over the past one hundred years.
Robert Lifset, Assistant Professor, Honors College, University of Oklahoma: "The Electrical Crisis of the 1970s."
According to Lifset, when American citizens began protesting about energy prices in the 1970s, many questions were raised about the management, maintenance, and future of the electrical industry in the United States. Lifset stated that although the energy crisis had to do with world oil shortages, an important component was an actual crisis in the utility sector, itself, brought about by changes in technologies, the manufacturing of electricity, over-anticipation of the market and of demand, and the imposition of regulations. A climate existed wherein technological advancement led to greater efficiency, lower prices, increased demand, and increased consumption. In the 1960s and 1970s, though, as prices increased, demand decreased; the cost of building new, more efficient plants continued to rise and this drove demand further down.
Martín Garrido Lepe, M.A. Candidate, Universidad de Valparaíso: "Coal Consumption in Chile during the twentieth Century."
Garrido Lepe studied the Chilean consumption of coal and how it changed over time in response to economic realities. The focus was on the transition from coal to oil because it was seen as economically efficient and a transition to modernity. He noted that there were some variations in the rise of oil and the fall of coal but the overall trend was apparent. Garrido Lepe argued that the antiquity of the coal technology led to a lessening demand of the transportation sector, which was the largest consumer, and this was the main catalyst in the transition. He argued that even though it wasn't the transportation industry did not transition first, it provided the largest push and caused a significant change in Chilean consumption patterns. Richard W. Unger, Professor, Department of History, University of British Columbia and Mar Rubio, Profesor Titular, Department of Economics, Universidad Pública de Navarra: "Long run energy consumption in aluminum production: A comparison of Canada and Brazil." Unger and Rubio compared and contrasted the aluminum sector in Canada and Brazil, particularly, its use of electricity and how it contributed to the development of the hydroelectric energy sector in each country. Aluminum smelters transformed waterways and developed settlements near water sources in order to make access to cheaper hydroelectric energy easier and cost effective. The second part of the presentation delved into the aluminum industry's electricity consumption in both countries. Unger and Rubio argue the aluminum industry's overall success in Canada and Brazil has benefited greatly from a sustained, cheap, and renewable energy source allowing greater production and greater profits.
VII. Comparative Indigenous Politics
Patricia McCormack, Professor Emerita, Faculty of Native Studies, University of Alberta: Conflicting Obligations: Oil Sands Development in Northeast Alberta and Treaty No. 8."
McCormack's paper outlined Treaty No. 8's promises about land uses for Indigenous people and illustrates how those promises have been disregarded in the face of industrial development. The signatories could not have imagined the future uses of the land, and although the goal of all the treaties was to remove Indigenous peoples from their native lands, Treaty No. 8 entitles them to be able to access land for the preservation of their culture and ways of life. She contends that tribes in northeastern Alberta do not benefit in a significant way from the oil production in the region, production that leaves much of northeastern Alberta unusable by the local Indigenous peoples, contrary to the terms of the treaty.
Chris Hebdon, Ph.D. Candidate, Department of Anthropology, Yale University: Energotransition Imaginaries: Buen Vivir vs. Sumak Kawsay in Ecuador."
Hebdon explores how neoliberal reform has impacted indigenous populations throughout Ecuador's oil producing areas. According to Hebdon, there is a disconnect between those who view energy as something which is to be tamed and those who see it as something which is integrated into every natural object. This divide on how to view energy is arguably what has created such vast social inequality during Ecuador's neoliberal period. As an alternative, Hebdon suggests that governments could buy into soft energy projects to mitigate the cultural and environmental effects of resource exploitation.
Dermot O'Connor and Juan Pablo Bohorquez Montoya, Willow Springs Strategic Solutions: What does the experience of Indigenous Groups in Canada's Oilsands suggest about the prospects for Sustainable Development for Communities in Extractive Resource Zones in Latin America?"
O'Connor and Bohorquez stated that as Canadian resource companies continue to invest in Latin America, they bring with them a wide range of social and political practices. O'Connor discussed communities in northern Alberta that have developed a dialogue with resource companies so as to lessen environmental degradation. Bohórquez examined the struggle of indigenous, peasant, and Afro-Colombian populations to maintain autonomy and political involvement in the face of resource extraction in Colombia. Holding resource corporations accountable for their actions, as they are in Canada, could potentially lead to a greater to greater democracy in nations such as Colombia where indigenous peoples are marginalized in pursuit of greater resource extraction.
VIII. New Energy Sources
Paul Chastko, Instructor, Department of History, University of Calgary: "The Shale Gas Revolution and its Implications for Canadian Energy Producers." Chastko focused on the Shale energy production boom in the United States and its implications for Canadian oil exports, and in particular producers in the oilsands region in Alberta. Chastko noted that the United States is the primary market for Canadian oil and natural gas producers and a decrease in demand within the United States will hurt producers in Canada. Though it was not expected to hurt Canadian producers, Chastko points out that the rise in Shale energy production has already cut into profits for Canadian producers. Chastko further argues that an even larger spike in Shale energy production may leave energy producers in Alberta without a reliable market for their product.
Jeffrey T. Manuel, Assistant Professor, Department of History, Southern Illinois University – Edwardsville: "The Ethanol Fix: The Politics and Culture of Alcohol Fuel in the United States during the Twentieth Century."
Manuel examined the numerous failures of alcohol to become a viable alternative to gasoline in the United States throughout the twentieth century, despite wide support from the federal government and the corporate sector. According to Manuel, alcohol's failure to catch on can only be understood by taking into account the U.S. political system and how national cultures and identities shape energy policy. The American culture of independence and self-reliance pushes support for alcohol as an alternative to gasoline when oil prices rise above acceptable levels. This support pushes the federal government into action, which then passes legislation to support alcohol based fuel development.
Tyler Priest, Associate Professor of History and Geography, University of Iowa: "Deciphering Deepwater: Oil from the Depths of the U.S. Gulf of Mexico and Brazil's Campos Basin."
Priest looked at deep-water oil and its growing importance to energy production. While many historians would argue that rising costs in the 1990s prompted many companies to expand oil extraction into deep-water, Priest argues that this was a much longer process that started in the 1970s. Examining the U.S. Gulf of Mexico and Brazil's Campos Region, Priest argues that changes in understanding of ocean margins and the 1970s energy crisis prompted Shell and Petrobras to make massive economic commitments to deep-water exploration and extraction. Both companies were instrumental to developing the technologies necessary to go into lower ocean depths.