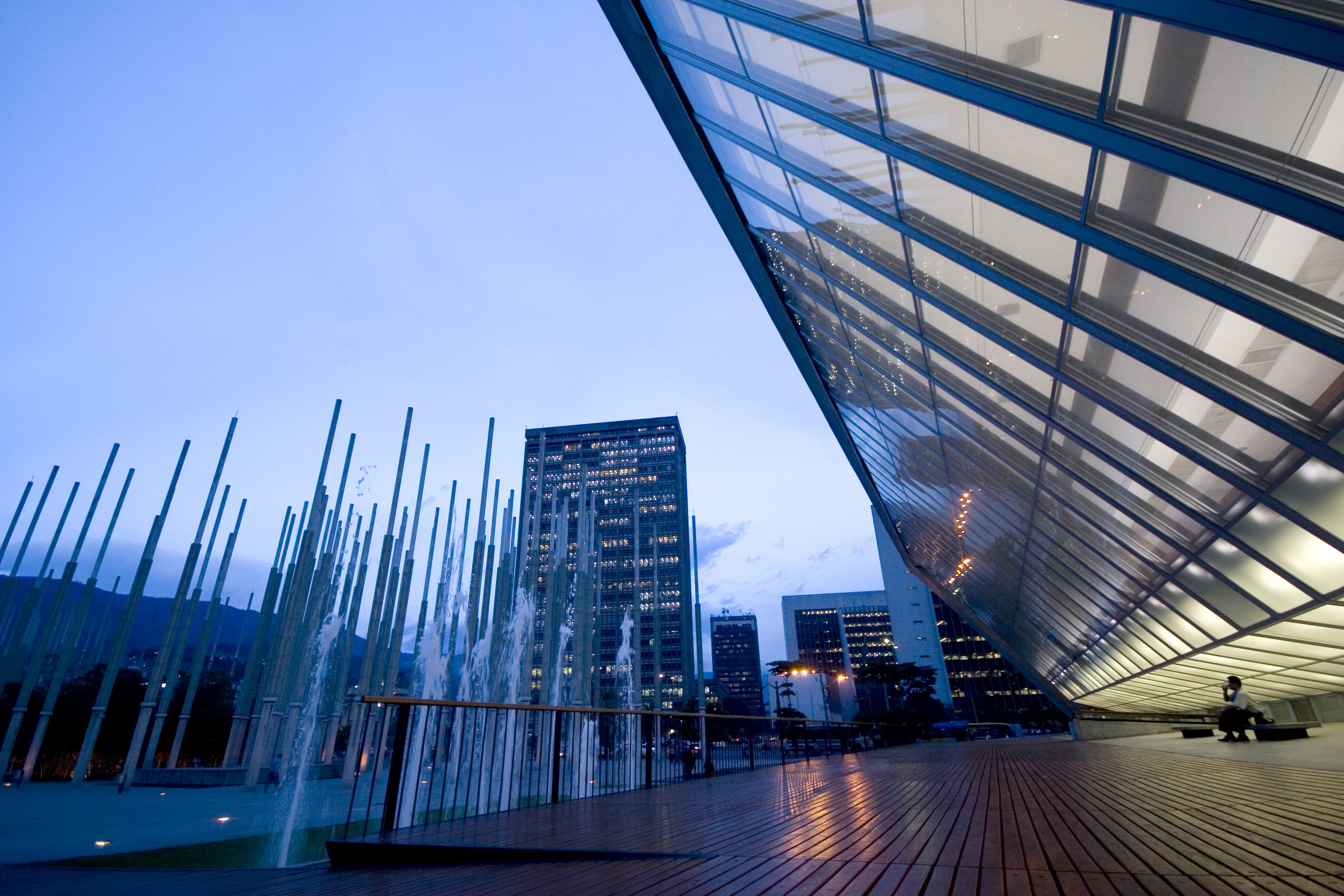 In launching its ambitious new LARC Dialogues initiative last week, the University of Calgary's Latin American Research Centre could, arguably, not have picked a topic of greater contemporary relevance.
After more than 50 years of conflict between the Government of Colombia and the guerrilla group FARC (Revolutionary Armed Forces of Colombia), the embattled Latin American country seems to be on the brink of peace, with negotiations currently underway between the two sides in Havana, Cuba.
As per its mission statement — to discuss and debate issues of modern significance for Latin America and beyond — the LARC Dialogues scored a great coup with its first event, held on April 26, at the Calgary Petroleum Club.
Juan Manuel Galán, Senator of Colombia, at LARC Dialogues from Latin American Research Centre on Vimeo.
Speakers discuss political, economic and social challenges with signing peace accord
Titled Overcoming Conflict in Colombia, and organized in partnership with the Colombian Consulate in Calgary, the program featured three speakers of great prominence. These included Nicolás Lloreda Ricaurte, the ambassador of Colombia to Canada; Ricardo Ávila, editor-in-chief of Portafolio, one of the leading Colombian media outlets on economic, business and financial issues; and Colombian senator Juan Manuel Galán, son of the political activist and presidential candidate Luis Carlos Galán, who was assassinated in 1989.
The poignant discussion explored the many political, economic and social challenges that could lie ahead upon the signing of the peace accord. The topics touched on included matters of justice. To be more specific, how will the victims of FARC be compensated and how will the former guerillas be integrated into Colombian society? Further, how might the Colombian economy be impacted by the new demands of peace?
Ricardo Ávila at LARC Dialogues from Latin American Research Centre on Vimeo.
Colombian senator calls for police reform, rebuilding local institutions and reducing corruption
Galán identified the need to revamp police services in the country.
"We need to reform our police system," said Galán. "We don't have a decentralized police force and we need our police to concentrate in the rural areas, which is what the army is now doing. Our police should focus in that area so that the army can concentrate on other security challenges related to the borders and strategic defence."
He added, "The police must stop corruption. For them to do that, we have to strengthen their capacity to conduct criminal investigations and build a trustful relationship with our citizens."
Galán also stated that there is too much dependency on the national government in Colombia and he called for a rebuilding of local institutions at the regional level.
"We need to strengthen the capacity of our communities to be vigilant about decision-making, investments, the budget, infrastructure. This will help reduce the risk of corruption," he said.
While the success of the peace process looks promising at the moment, Galán warned of some of the potential pitfalls that could sink it — namely other illicit armed groups, such as the ELN (National Liberation Army). "We have to speed up negotiations with them, but with ELN, it's more complicated," said Galán. "They are even more dogmatic than FARC."
Nicolás Lloreda Ricaurte, Colombian Ambassador to Canada, at LARC Dialogues from Latin American Research Centre on Vimeo.
Centre broadens scope of what's considered Latin American research
Pablo Policzer, director of the Latin American Research Centre, saw the first LARC Dialogues event as a great success and he hopes to expand the series in the future as an annual, or even, semi-annual affair.
"Even though this particular dialogue had a clear political focus, our vision is to host similar dialogues on a broad range of topics from the arts to the sciences," said Policzer. "Whether it's climate change, energy issues, economics, new developments in popular culture — there's all sorts of ways we can imagine continuing this in the future.
"Traditionally, LARC has been the home of academics who think of themselves as Latin Americanists, but there's all sorts of people doing incredible work in the region who don't necessarily see themselves as Latin Americanists, whether they're in medicine, engineering, physics.
"We're aiming to broaden the scope of what Latin American research is all about," says Policzer.
Heath McCoy via UToday