The recent removal from office of Bogotá Mayor Gustavo Petro has caused widespread concern in national and international human rights organizations, including the Inter-American Commission on Human Rights. The immediate cause of the removal by Inspector General Alejandro Ordóñez was Petro's failure to deal effectively with a 2012 garbage strike and his failure to adhere to established competitive bidding procedures in removing the city's waste management collection from four large private companies and assigning it to public ownership. The Colombian Supreme Court upheld the legality of the removal and the Santos government appointed Labour Minister Rafael Pardo as the interim mayor. The Santos government also rejected the Inter-American Commission on Human Rights, which in March held that the removal violated Petro's rights and recommended cautionary measures which would have retained Petro in power while the Commission undertook a more thorough review of the case. There was particular criticism that in addition to being removed from office, Petro has been barred from holding office for fifteen years. Petro and his lawyers continued to seek legal redress. On April 22 the Tribunal Superior de Bogotá found in favour of Petro, and the following day President Santos reinstated him as mayor. Technically the crisis is over, but the fallout from it will linger for years. What was involved and what, if any, are the longer term implications?
There is more than competitive bidding for waste management services involved in this affair. On the one hand Petro had, from the outside of his mayoralty, been widely criticized for incompetence and had the Inspector General not taken the action he did Petro would simply have been remembered as one of the city's worst mayors in memory. Instead, the undemocratic action has made a martyr of Petro. He won office in 2011 as the candidate of the Movimiento Progresistas with only 32% of the popular vote. His administration was plagued with problems and he was widely criticized for his heavyhanded administrative style, even by the Economist magazine. He signed a new zoning plan into effect for the city in spite of the fact that the plan had not been approved by the City Council and by late 2013 he was already facing a recall process supported by an estimated 600,000 signatories, almost 400,000 of which had been validated. Petro's supporters, however, stress that the plan had considerable merit in attempting to reduce overdevelopment A Latin American Research Centre publication in the wealthier north of the city, encourage development in the city's poorer districts, and provide incentives for developers to build affordable housing in the city centre. In the aftermath of his removal, however, even many of those who opposed Petro were distressed by the seemingly undemocratic action by the Santos administration, viewing the decision as ideologically and politically motivated, in particular the ruling banning Petro from holding public office for fifteen years. Others were pleased with his removal. Angela Ospina, for instance, a former presidential adviser and Conservative candidate for the Senate, contended that it should be Bogotános who were indignant with Petro's incompetent operations of the city government:
"Indignant Bogotános who have to live in the chaos of this city every day, experiencing the violence that dehumanizes our city every day, as we see public funds wasted on improvised public projects. Outraged with a ruler who squandered his term." (BBC, Mundo 10 de diciiembre de 2013)
Context and background are important to understand the decision and its implications. Petro is a former member of the M-19 guerrilla organization which emerged in the mid-1970s, an organization which was responsible for more than fiftythree civilian casualties during the siege of the Palace of Justice in 1985, the hostage taking at the Embassy of the Dominican Republic, the kidnapping and murder of Afro-Colombian labour leader José Raquel Mercado, business leader Hugo Ferreira Neira, and oil company executive Nicolás Escobar Soto who was literally buried alive, and the kidnapping of Conservative Party leader Álvaro Gómez Hurtado. Although Petro was not directly involved in these events he was arrested in 1985 for the illegal possession of weapons and sentenced to a short term in prison. On his release he promoted negotiations with the government which led to the disbanding of M-19. He then completed undergraduate and graduate degrees in economics before entering politics as a member of the Alianza Democrática M-19 and in 2002 was elected to the Chamber of Deputies. He was judged to be an effective congressman and contributed to the formation of a new leftist political coalition, the Polo Democrático Alternativo, during the Presidency of Álvaro Uribe. Petro was also elected to the Senate, where he was one of the outspoken critics of the Uribe government's alleged links to paramilitary organizations. Petro has been equally critical of FARC, the Revolutionary Armed Forces of Colombia, whom he refers to as criminals, drug traffickers, and non-revolutionaries. Petro's political star seemed to be on the rise by 2010, gaining the presidential nomination of the Polo Democrático Alternativo and 9% of the popular vote in the Presidential election that year. In 2011 he won a plurality of votes for the mayoralty of Bogotá, arguably the second most important elected position in the country.
Critics of the decision to remove Petro from office and to ban him from subsequent office holding have argued that the decision was ideologically and politically motivated, intended to discredit the left, noting the extreme right wing orientation and reputation of Inspector General Ordóñez. Ordóñez is known for his extremely conservative Roman Catholicism, including his anti-gay stance, opposition to abortion and to same-sex marriage, (BBC Mundo, 16 de dic. 2013) themes in which he clashed directly with Petro's approach. Ordóñez rejects the contention that his religious beliefs played any part in his decision: "I am a Catholic in public life and am not ashamed of that. Such a condition is a guarantee never a threat," he argued. Ordóñez is also known for highly authoritarian actions. Semana magazine noted that in his first term Ordóñez dismissed 828 mayors and 49 governors, an average of four mayors a week and one governor per month. In an interview with El Tiempo in January Ordóñez indicted that: "En numerosas ocasiones uno debe tomar decisiones con la opinión pública, en muchas otras sin la opinión pública, y en muchas otras contra la opinión pública. Si uno al cumplir el deber se condiciona por Page 2 Mayor Gustavo Petro. Photo: eluniversal.com.co Page 3 A Latin American Research Centre publication If you want to receive our Hot Topics series on a regular basis, please send an email to larc@ucalgary.ca with the subject Hot Topics. Visit our website www.larc.ucalgary.ca to access previous Hot Topics and find information on upcoming events, our newsletter, country profiles, current projects, and research opportunities. The Latin American Research Centre University of Calgary Social Sciences 004, 2500 University Dr. NW Calgary, Alberta T2N 1N4 Ph: 403-210-3929 Fax: 403-282-8606 E. larc@ucalgary.ca W. larc.ucalgary.ca los efectos, termina desnaturalizando la función y prestándole un flaco servicio a la sociedad. La tomé con fundamentos en las realidades probatorias, en la justicia, y sin importar las consecuencias que ella tendría." (El Tiempo, 19 de enero de 2014)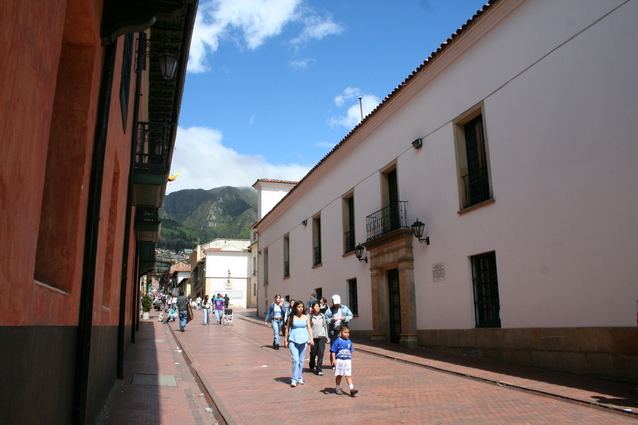 Regardless of the relevance of Ordóñez's ideological orientation there are problems with the current powers of the Inspector General. The first problem is that there is no appeal from his decisions. The second is that the scope of his powers is so broad. He does not have to demonstrate criminal activities to justify removing an elected official; incompetence is considered sufficient justification.
Yet, the larger political issue is not Ordóñez's political "style" but rather on the one hand the competition among political factions with divergent views on a range of issues, in particular negotiations with FARC. President Santos, whose politics are centrist and possibly even slightly left of centre, has supported the negotiations in Havana with FARC. Ordóñez, former President Álvaro Uribe and his followers have not. Indeed, Ordóñez has advocated that the International Criminal Court investigate crimes committed by FARC, an approach obviously strongly opposed by FARC. There is some irony in this fact given Petro's criticism of FARC. Nonetheless, the removal of Petro provides an opportunity for the Urbistas and their new political party, Centro Democrático, to gain control of Bogotá. Indeed, Francisco Santos, Uribe's former vice-president and cousin of current President Santos, is considered by some analysts to be a likely winner of the next mayoralty election scheduled for October 2015.
Other analysts fear that Petro's removal will undermine negotiations in Havana with FARC because confidence on the left in the good faith of the Santos government will have been compromised. That said, the concern may not be serious since FARC delegates have not pressed the Petro issue even though they did issue a statement condemning his removal. Although President Santos publically supported the decision and declined to comply with the cautionary measures of the Inter-American Commission, he had little if any choice in the matter once the decision had been made since recognizing the Commission would have opened up the possibility of hundreds of legal cases. For some, Petro's removal can be seen as a victory for the Uribistas, who have been the leading opponents of the FARC negotiations. Beyond the potential damage to a negotiated peace with FARC, the political left has every reason to feel vulnerable when confronted by a ruling conservative coalition that has demonstrated once again its refusal to accept a more pluralistic and broadly representative Colombian political spectrum. To date the hope that was occasioned by the adoption of a new and more open constitution in 1991 has yet to be realized.
The views and opinions expressed in this 
article are those of the author/s and do not 
necessarily reflect those of the LARC.