Photo: Fernando Frazão/Agência Brasil
Former Brazilian President Luiz Inácio "Lula" da Silva, who founded the Workers' Party and ruled the country during two terms (2003-2006, 2007-2010), is now behind bars. Federal judge Sérgio Moro ordered his arrest on April 5, stipulating that Lula should present himself at the federal police headquarters in Curitiba by 5pm the following day. At first, Lula defied the deadline and remained in the Metalworkers' Union building in São Bernardo do Campo, a city just outside São Paulo. But on April 7, after a mass in honour of his late wife, Lula finally flew to Curitiba to hand himself in and start serving his sentence. It is the first time in Brazil's history that a former president is convicted and locked up. 
A former metalworker and once the most popular president in Brazil (leaving office with an approval rating of 83%), Lula started his political career as a trade union leader in the same building where he retreated after the arrest order against him. The latest events were triggered in 2017, when judge Moro sentenced him to nine years and six months in prison for receiving a beachfront penthouse as a bribe from the engineering company OAS, in addition to other charges. Lula's lawyers appealed the decision to the Federal Regional Court of Porto Alegre (TRF-4), but on January 24 the panel upheld the original conviction and added three years to the sentence.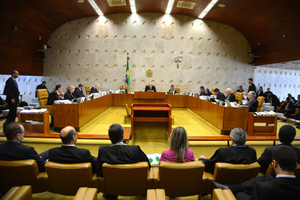 Although the former president's lawyers requested a pre-emptive habeas corpus to avoid his imprisonment while exhausting all his appeals, Brazil's Superior Court of Justice (STJ) unanimously rejected the petition. More recently, on April 4, Brazil's top court, the Supreme Federal Court (STF), also rejected the habeas corpus petition by a 6-to-5 vote. Lula has still not exhausted all his appeals and may ask both courts to re-examine whether his constitutional rights were respected throughout the investigation against him. While this may eventually lead to the annulment or reduction of his sentence, it could take years. For now, Lula remains in prison.
Lula's imprisonment is an outcome of Operation Car Wash, which has been investigating the Petrolão scandal since 2014. The scheme involved construction companies obtaining contracts with the state-run oil and gas company Petrobrás in exchange for bribes. The Federal Police estimates that the money-laundering scheme has moved approximately US$3.8 trillion dollars—an unprecedented amount even in Brazil's long history of corruption scandals. Numerous company executives, politicians, bureaucrats, and billionaires have been linked to the scheme. Brazil's "biggest corruption scandal" has seen the emergence of "the country's biggest ever corruption investigation", mainly carried out by the Federal Police and led by judge Moro and a small group of prosecutors.
Although other corruption scandals have occurred in Brazil since it transitioned back to democracy in the early 1990s, anti-corruption investigations have historically been anemic. But this has changed significantly in the last ten years, as a complex web of anti-corruption institutions has been granted more autonomy and become more technically sophisticated. Outcomes of the Operation Car Wash have been the most impressive to date. As of April 12, 2018, the Federal Police claims that approximately US$227 million have been recovered; the Public Prosecutor Office reports that 16 companies are being prosecuted, 163 plea deals have been made, and 215 requests for international cooperation remain active—.
Although other corruption scandals have
occurred in Brazil since it transitioned
back to democracy in the early 1990s,
anti-corruption investigations have
historically been  anemic. But this has
changed significantly in the last ten years
In a country where politicians and business leaders have traditionally avoided formal punishment for corruption, Operation Car Wash has made headlines. The group leading the operation is now at the forefront of the most important effort ever to end impunity for those involved in corruption. Workers' Party member Delcídio do Amaral, accused of obstruction of justice, was the first sitting senator in the history of Brazil to be detained. The Speaker of the Chamber of Deputies, Brazilian Democratic Movement Party's Eduardo Cunha, was arrested and accused of hiding millions worth of bribes in secret bank accounts. Billionaire CEOs Eike Batista and Marcelo Odebrecht also went to prison in connection with the case. Judges and prosecutors leading the operation, such as Moro himself and prosecutor Deltan Dallagnol, are celebrated as leaders of a new crusade against corruption.
This most recent outcome—the imprisonment of Lula—is extraordinary for two reasons. First, it punishes a former president for corruption in a context where impunity for politicians was the norm until very recently. In an interview I conducted in 2014, the former general prosecutor of the Public Prosecutor's Office, Aristides Junqueira, stated that Brazil had a tradition of seeing presidents as "untouchable", in reference to the flawed criminal proceedings of the first corruption scandal in the democratic period. Today, operations are not only more technically professional, but have also become independent and powerful enough to be able to investigate and sentence a president. The second reason why the latest events are extraordinary is that it concerns Brazil's most popular and charismatic leader in the last twenty years.  
The imprisonment...
shows that no one
—not even a popular
president—is above
the law
Leaders of the operation celebrate Lula's sentencing as the most emblematic event in the fight against corruption: a sign that wrongdoing in Brazil is no longer tolerated and no longer rewarded with impunity. One of the lead prosecutors called the day of the Supreme Federal Court's decision on the habeas corpus "the D-Day in the fight against corruption in the Car Wash investigation". The imprisonment supposedly marks the success of the operation and a victory against impunity. By contrast to previous operations, it shows that no one—not even a popular president—is above the law.
While this would appear to be good news for democracy and the rule of law in Brazil, a closer look at the context and timing of Lula's conviction suggests otherwise.
Why Lula's Conviction is not about Corruption and
Why this Matters
The "fight against corruption" has become the narrative for any political campaign in Brazil. Parties from both sides of the spectrum have used the expression to justify actions and gather public support. For instance, the impeachment of then President Dilma Rousseff (Workers' Party) in 2016 was formally on the grounds of the violation of fiscal principles. Yet, what fueled her removal de facto—as can be easily observed in the short speeches deputies made to justify their votes in April 2016—was that it was a necessary step in the fight against corruption (even though there is no evidence of her being directly linked to it). Public opinion on Rousseff's impeachment has been polarized, with some calling it a coup and some celebrating it as an achievement in the fight against corruption.
Although thoughts on Rousseff's impeachment are polarized, that is not the case for her successor and former vice president Michel Temer (Brazilian Democratic Movement Party). President Temer is deeply unpopular, with a growing disapproval rating (from 31% in June 2016 to 70% in January 2018). His tenure in office is not only a source of dissatisfaction for most Brazilians, but it is also the best illustration that the anti-corruption narrative has not affected all equally and impartially. In June 2017, President Temer was accused of passive corruption. The evidence was a taped conversation provided by business leaders in a plea bargain, and reportedly also implicates former presidential candidate Aécio Neves (Brazilian Social Democracy Party, and Rousseff's nemesis in the 2014 election). In September 2017, Temer faced a second round of charges alongside Eduardo Cunha and other members of his party, all accused of pocketing US$188 million in bribes.
In addition to being the most unpopular Brazilian president in modern times, Temer is also going down in history as the first sitting president in Brazil to face criminal charges. He would have had to face Brazil's top court if two-thirds of the 513-seat Chamber of Deputies had voted for the motion. While 227 voted in favour, 263 voted against it. This was just three years after the lower house started Rousseff's impeachment and cited corruption as the cause numerous times when voting. In a not unusual move in Brazilian politics, Temer avoided trial by using different political tactics, including directly persuading key politicians. The NGO Contas Abertas highlights the release of funds to congressional districts in the month preceding the vote. Temer's case is only one among the many that challenge the narrative that corruption is the real aim in Lula's sentencing. In 2017, a justice of the Supreme Federal Court unveiled a list of 83 sitting politicians in the government (29 senators, 42 federal deputies and 9 ministers) under investigation for connection to the Petrobrás scheme. All large parties have been implicated throughout the operation.
When it comes to current charges, the evidence against Lula pales in comparison to that against President Temer and numerous other politicians. This does not mean that he should be indicted only after the latter can face similar consequences (most are shielded from common courts because they are sitting politicians). Yet, Lula's indictment is problematic, with recordings of telephone conversations between him and Rousseff as well as with his lawyers being made after the warrants to obtain them had expired. The press widely publicized the leaked taped conversations, although their release was unconstitutional. (The Supreme Federal Court later ruled them inadmissible as evidence.) In another questionable manoeuver, the Federal Police compelled and escorted Lula to testify even though defense lawyers had made it clear he would cooperate. All the judicial procedures against him have also been unusually quick. From sentencing to imprisonment, Lula's case took 9 months when most cases in the operation have lasted between 18 and 30 months.
The evidence against
Lula pales in comparison
to that against President
Temer and numerous
other politicians
Perhaps a fast trial can be interpreted as Operation Car Wash just trying to do their job, and doggedly targeting Lula has nothing to do with politics. At some point, other high-level politicians should expect the same treatment. But this narrative is questionable, because the fight against corruption only significantly affects one side of the political spectrum. Notwithstanding its professionalism, the irregularities of Operation Car Wash's investigation against Lula took place when it politically hurt him the most.
Why does this matter? Because of timing. Brazilians will vote in a presidential election in October and Lula has been the front-runner in every poll. Making him the villain in the anti-corruption narrative could possibly affect his chances of winning. However, despite his indictment and subsequent trials, he leads the polls. When considering the most likely candidates, Lula leads with 34% of the vote according to a poll and interviews undertaken by Datafolha at the end of January, after the Federal Regional Court had upheld his sentence. According to this and other polls, Lula is the clear favourite to win the election.
In the far right, Jair Bolsonaro (Social Liberal Party) may appeal to the most extremist end of the spectrum, but he is not an obvious choice for those who do not wish to see Lula serve a third term. In case Lula runs, Bolsonaro polls second with 16%, followed by Marina Silva (Sustainability Network Party) with 8%. In case Lula cannot run, Bolsonaro would likely lead, but could potentially lose to Silva in the runoff. Moreover, 32% claimed they would back no one at the ballot box if Lula is out of the presidential race. In this context, it is not far-fetched to say that Lula's fate for 2019 is either coasting to a third term in the presidential Planalto Palace or prison. Lula was carried by a crowd of supporters when he turned himself in, and highly celebrated during the two days he stayed at the metalworkers' union building.
The results of the election in October are filled with uncertainty. The 2010 Clean Slate Law states that individuals convicted of a criminal offence cannot be candidates to elected office for eight years. Although Lula's lawyers can still appeal the charges of corruption while he is in prison, the final decision of whether he can be a presidential candidate rests with the Superior Electoral Court (TSE). The Workers' Party has until August 15 to appoint Lula as its official candidate in spite of the indictment. Although the chances of this are thin, he may yet be a candidate and win. In case he is not able to run, there is a high risk it will be an unpopular outcome and non-credible election. Either way, the risk of political instability is high.
Considered a hero by some and the embodiment of corruption by others, Lula's fate will most likely generate protests and trigger social movements in a country that has become increasingly polarized. In March, Marielle Franco, a councilwoman and human rights activist, was shot in a black women's empowerment event. Her killers have not been identified, and it is believed she was targeted because of her political work. In April, one day before the Supreme Federal Court met to make a decision on Lula's habeas corpus petition, a Brazilian general stated that the army would fulfill its constitutional mandate and that it repudiated impunity. This has been widely interpreted as a veiled threat of a coup, in a country governed by a military dictatorship from 1964 to 1985. Both events have increased political tensions and divisions. Regardless of the verdict against him, the decision on Lula's future is likely to further polarize the country.
Stronger Anti-Corruption Institutions, Stronger Rule of
Law, Stronger Democracy?
Anti-corruption institutions in Brazil are undoubtedly stronger than in the past. No other anti-corruption operation in Brazil has had such positive outcomes in such short time. In a country plagued by government corruption, such operations are critical to the rule of law. Strong institutions must punish wrongdoing (including corruption) regardless of the position of the individuals or how popular and wealthy they may be. Under Operation Car Wash, many previously "untouchable" individuals now face punishment in a variety of forms.
Nevertheless, there are good reasons to question Lula's indictment as a positive outcome of Operation Car Wash: the evidence against him is thin, and the Temer government is filled with people linked to more serious cases of corruption than those against Lula. His Workers' Party was at the centre of a large corruption scandal in 2006 and has been linked to the Petrolão scheme. But the context and timing of his imprisonment raise questions beyond whether the beachfront penthouse belongs to him and whether he is a hero or the embodiment of corruption. We should ask instead about the bigger picture: What does his conviction mean for the rule of law and democracy in Brazil?  
The greater autonomy of anti-corruption institutions in the last decade is a positive step for the rule of law. Increasingly powerful and technically sophisticated institutions are able to target a broader range of individuals than in the past. Holding business leaders and politicians from all parties accountable is an important achievement in a country with historically weak institutions. It is also worth noting that most votes against Lula's habeas corpus in the Supreme Federal Court came from justices appointed by the Workers' Party when it was in government. They justified their decision by noting that the Court had made an agreement in 2016, which mandated prison for individuals whose sentence had been upheld on first appeal, and that Lula should not be an exception. Lula is not a victim of all institutions; they are not all conspiring to put him in prison. But these examples of institutional strength do not mean that indicting a popular former president is necessarily a positive outcome, nor that all anti-corruption institutions act impartially at all times.
The operation—and, above all, the judicial branch of the investigation—shows signs that anti-corruption institutions may be technically strong, but some are not so strong as to avoid political bias. Lula's indictment suggests that neutrality in the selection of cases and impartiality in the application of the law throughout investigations are both visibly absent.
While no one should be
above the law, the law
should also not be used
as a political tool. The
context and timing make
it difficult not to conclude
that Lula's indictment is a
political manoeuver to keep
him off the ballot in October
In that bias lies the danger to democracy: while no one should be above the law, the law should also not be used as a political tool. The context and timing make it difficult not to conclude that Lula's indictment is a political manoeuver to keep him off the ballot in October. It is remarkable that Brazil's usually lengthy legal proceedings have taken half the average time to get to the point where Lula has been incarcerated. Despite their many benefits, stronger institutions in the fight against corruption also have downsides for the rule of law and democracy.
Although everyone claims to be against corruption, the anti-corruption narrative has clearly benefitted one side of the political spectrum while destroying the other: it was widely used to influence public opinion against Rousseff, even though she was never personally charged with corruption in the impeachment proceedings against her, and it is now being used to get rid of Lula before the October elections.
Competing narratives are fair game in politics. But what is especially troubling in Brazil is that the institutions that helped build this particular narrative were created to protect the rule of law and shield against tyranny. When these institutions shape public opinion for political purposes, even to the extent of altering an election, they threaten a core foundation of democracy.
---
Suggestions for further reading and videos:
In Portuguese:
In English:
The views and opinions expressed in this 
article are those of the author/s and do not 
necessarily reflect those of the LARC.