Message from the Director, Pablo Policzer
With our sights set firmly south, the LARC's mission is to help the University lift up its eyes, broaden its horizons, and see farther. Over the past year, we have made great strides toward these goals, hosting innovative events, welcoming international and local visitors, and undertaking new partnerships and projects. As a multidisciplinary centre, we are well on our way to broadening our impact.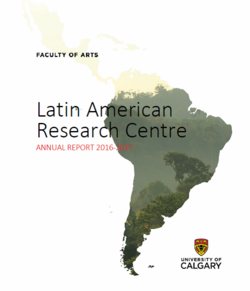 We are committed to the Faculty of Arts' goals of engaging, inspiring and discovering. Our events have certainly engaged large numbers of people. The increasingly successful film series showcases award-winning contemporary cinema from across the region, often in partnership with local consulates and community organizations. Guest speakers have inspired discussion on cutting-edge research, and we are proud to have established a new partnership with the Calgary Association of Lifelong Learners to engage community audiences outside the university. We have hosted events with a broad range of university partners – including the School of Public Policy and the Calgary Institute for the Humanities – welcomed graduate student residents from across campus, and visitors from Canada and abroad. Our publications also reflect our broad interests and horizons, from Mexican surrealist photography to the current Venezuelan crisis. 
As we move forward, we will continue to reach out, establishing new partnerships and undertaking ambitious new projects. We will be collaborating with the Calgary Public Library on several initiatives that will continue in the state-of-the-art downtown library building, opening in 2018. We are also undertaking new fellow-led projects on extractive resource governance and sustainable development. 
The LARC has deep roots, stretching back to the earliest days of the University, and flourishes today through support from the Faculty of Arts, its Fellows and Executive Committee, its Advisory Board, and its large and growing community of stakeholders. This foundation, breadth and diversity are our strengths.  
Engage with us. We want to hear from you.
Pablo Policzer
Director, Latin American Research Centre